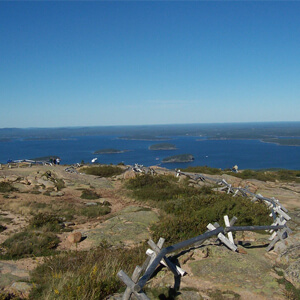 Drive along the Most Beautiful Highways in the US
If you want to enjoy driving the northeast, the best time to do that will be in autumn. Why? It's because the weather is often pleasant, there's lesser crowd, and there are a lot of activities you can do such as fall foliage tours, biking, and hiking.
Be Amazed by the Sunset/Sunrise on Top the Cadillac Mountain
The Cadillac Mountain is a very nice place to go to. You can drive, ride your bike, or hike to reach its peak. The best way to do that is early in the morning or late in the afternoon. Either way, you'll get to see some amazing views of the Porcupine Islands, the Frenchmans Bay, and more.
Enjoy Biking at the Best Bike Path in Northeast US
The amazing mountain of Stowe in Vermont is best suited to those looking for a biking trip in the northeast. Stowe is the home of the Recreation Path which is an eye-catching, roundtrip, 12-mile bicycle path. This runs through the heart of Stowe. If you're into photography, make sure to bring your camera as the Recreation Path offers a lot of scenic views of covered bridges, farms, and much more.